Attendance
At Dixons Fazakerley Academy we have a dedicated attendance team who can support families in ensuring that their children have exceptional attendance. This means above 97%, equivalent to less than five days of absence per year.
We are passionate about ensuring that every student feels happy and supported in school and so if you would like any support please do not hesitate to contact us via: attendance@dixonsfa.com or by calling: 0151 524 4530.
Designated Attendance Lead - Mr A. Roberts
Student Liaison Officer - Ms K. Atherton
Attendance Officers - Ms D. Hayworth & Ms N. O'Hare
We also have an attendance drop in every Tuesday from 3.45 - 4.30pm if you would like to discuss any issues regarding attendance.
Please see the graphic below which highlights so clearly the lessons that are lost through non-attendance. Students learn so much in every lesson that even missing only 5 days over an academic year will mean your child will miss 33 lessons.
Similarly you can see below the impact of punctuality on the lessons missed by students. Students who are 15 minutes late a day can lose 50 lessons of learning over an academic year!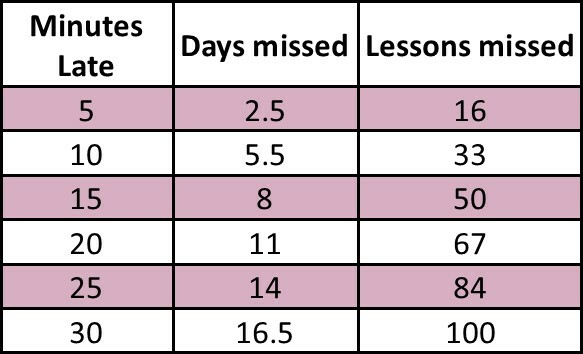 Click here for a helpful article from the Department for Education regarding everything you need to know about education when starting back at school after the summer holidays.